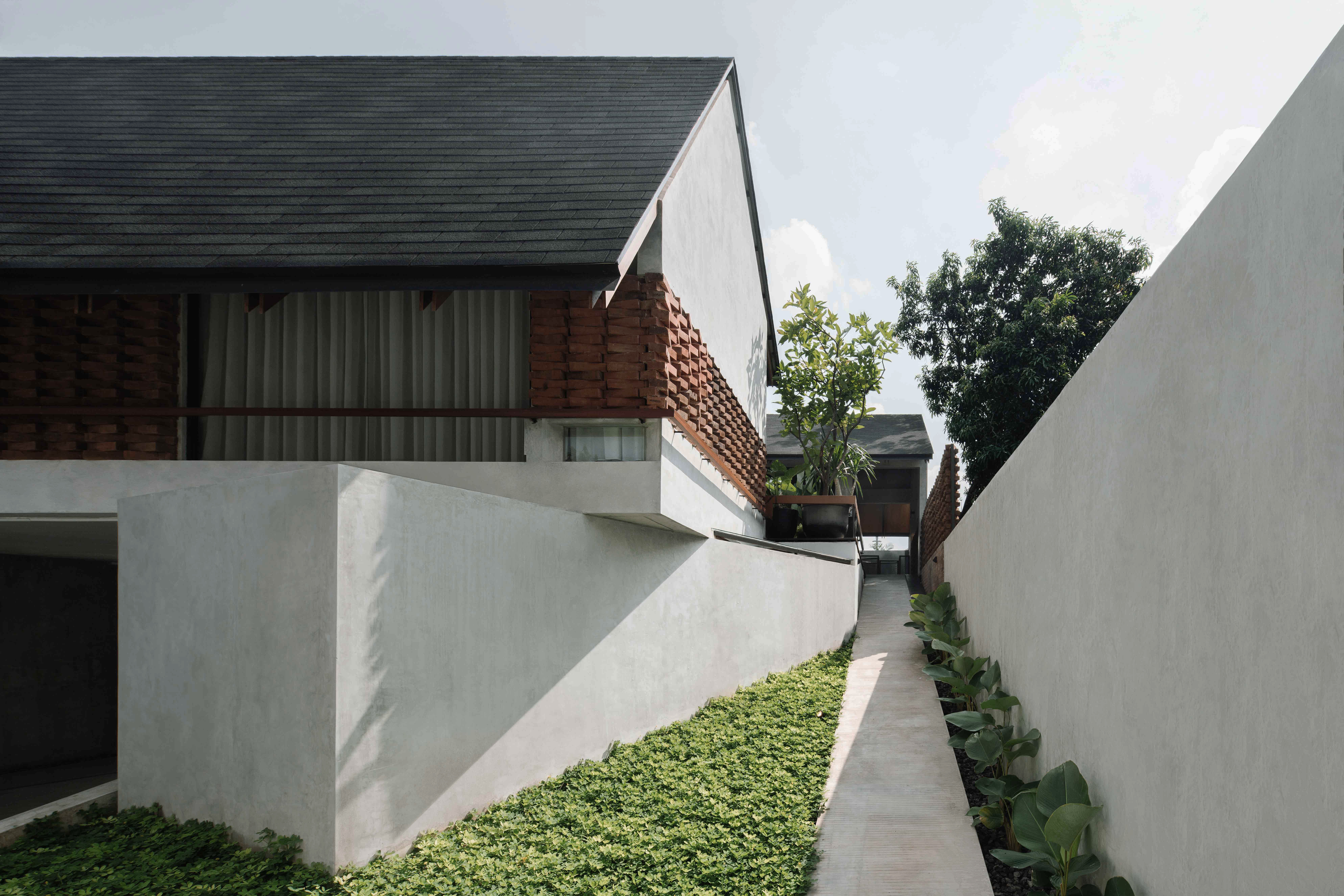 | | | |
| --- | --- | --- |
| PROJECT | : | ACH House |
| TYPE | : | Residential |
| SIZE | : | 211 sqm |
| CLIENT | : | Confidential |
| LOCATION | : | South Jakarta, Indonesia |
| STATUS | : | Completed |
ACH House is located in urban residential area of South Jakarta. Stand on the site in the shape of extending backwards. To maximize air circulation, mass sequence is made separately into two lean masses. Creating an inner court between the two building masses. Utilization of the built area as efficiently as possible according to client needs, so that it can leave a lot of green space.
The front of the building faces south, with a touch of exposed red brick stacking at 45 degrees to create a rich texture. The use of a saddle roof on ACH House with a low impression to maximize openings without disturbing privacy. The orientation of the opening is maximized towards the north and south, to avoid direct sunlight. Common spaces are limited by wide openings, so it does not need artificial ventilation. The main material is dominated bu exposed cement, red brick and the use of solid teak wood.
ACH House consists of 2 floor levels. On the ground floor serves as a service area and kids bedroom, while the common room is on the 2nd floor. The Bedroom is arranged directly conterminous to the garden or swimming pool, to get ventilation and natural light and optimal view. The foyer on the ground floor is adjacent to the inner court. The main living room, pantry and dining room is on the 2nd floor with a high ceiling following the shape of a sloping roof, and accessible by ramp from the front area.
The swimming pool is on the 2nd floor as the center of the inner court, an important element that provides a positive spatial relationship to the surrounding spaces. Order of achievement of an interesting space towards the living room from the entrance, ramp, and terrace as a transition space outside and inside. Space sequence performances are designed to provide a richer space experience.