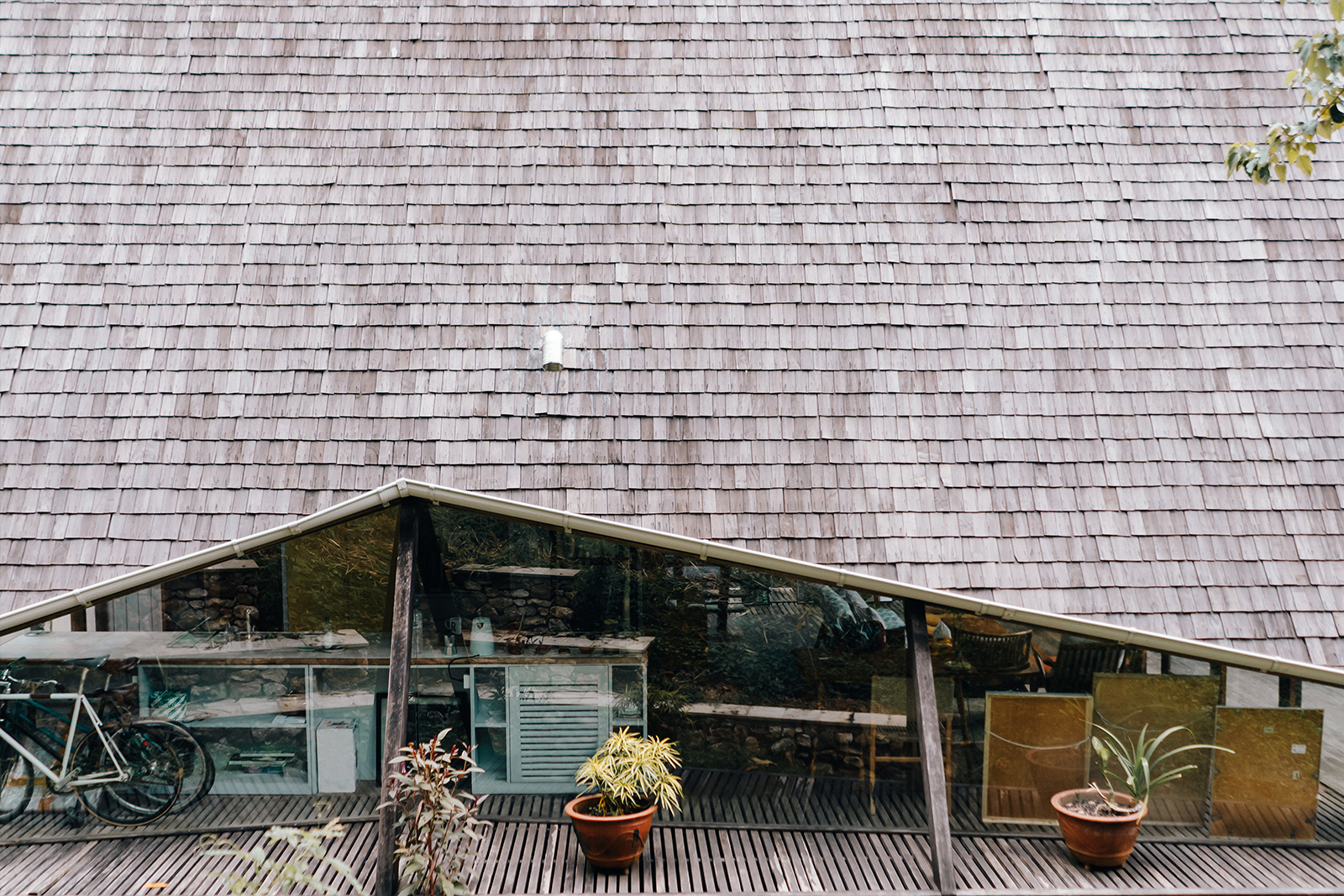 | | | |
| --- | --- | --- |
| PROJECT | : | Kayu House |
| TYPE | : | Commercial |
| SIZE | : | 120 sqm |
| CLIENT | : | Confidential |
| LOCATION | : | Lombok, Indonesia |
| STATUS | : | Completed 2019 |
The Wood
Raised on a platform above a sloped terrain, unique wooden A frame tucked away in the jungle of Lombok, Indonesia. This project started shortly after Lombok was hit by earthquake in 2018, leaving many building on the island in ruins. While many modern concrete building in the area crumbled after the earthquake, most of simple wood structural building would stand still. Wood has known for its unique characteristic that can flexes in an earthquake, making it a great choice of material for a house that needed to withstand in Indonesia volcanic condition.
The structural A frame of the house was built in Tomohon, Indonesia later to be assembled in Lombok. The house used ulin wood, also known as iron wood as structural frame, decking, and partition. Ulin is incredibly dense and it requires specialist skills of Tukang Kayu (eng: woodworker) that has been mastering this kind of wood.
The Passive Cooling System
The A frame shape inspired from traditional North Sumatran wooden house, an impressive wood structure with high pitched roof for natural cooling ventilation system within tropical environment.
The house stilts above a slopped terrain, giving a potential air flow for ventilating house underneath. Massive pitched roof protecting the house from heavy monsoon rain and tropical heat, thus the wood slats used in the as a subfloor ventilation to passively control heat from outdoor thermal with zero energy consumption. The high pitched roof keeps the warm air high above rooms. As the hot air rises, the subfloor ventilation naturally fluxed house with cooler air to give the house thermal comfort during day time.
The space
The house consists of two large bedrooms, a fully equipped kitchen, a large outdoor lounge and terrace nestled in the bamboo canopy, and a beautiful outdoor bathroom. The house was built to minimize its impact on the area, with water recycling, natural composting system and a large private garden.
On the side of the house the massive roof slightly pitched to give maximum indoor-outdoor feeling to house, having maximal natural lighting to the bedroom and kitchen yet still giving effective shade to prevent heat entering the house.